Welcome Information Package
On this website you will find all important information before your visit to SGGW, either if you are an international employee, visitor, or student- both those who come to the SGGW for a one-semester exchange and to pursue the whole cycle of their studies.
If you have any questions please contact International Cooperation Office- WePoint,  our team is here to assist you at the beginning and during your stay in Warsaw. We will be glad to answer your questions concerning studies at SGGW and life in Poland as well as to help you find the way to other University offices. We hope to make your transition to SGGW and life in Warsaw as smooth as possible!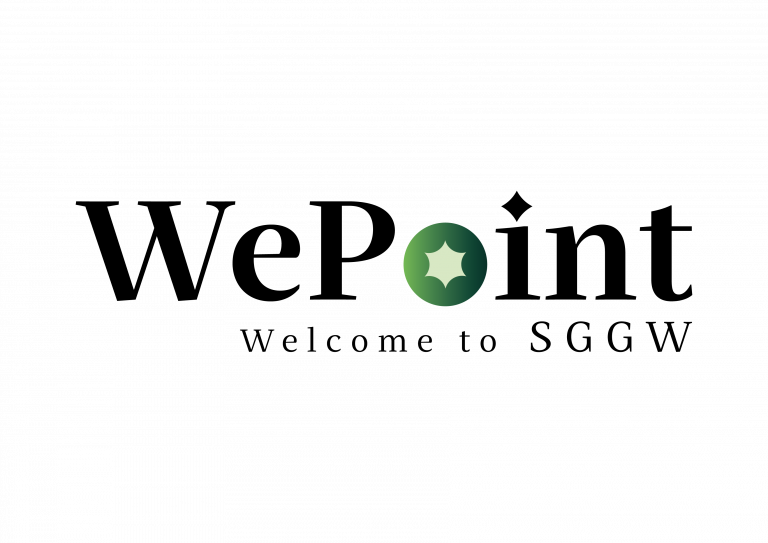 Short time exchange students
How to apply?

Start from checking whether your home University has an agreement with the Warsaw University of Life Sciences within your studies. Contact your local International Office and follow internal procedure, when you are nominated to visit SGGW read all of the important information's here.

Bilateral agreements for studies

Base on SGGW's international cooperation agreement you are able to participate in the semestral or annual academic exchange, contact your local International Office for details. If you are an SGGW full-time student, see the possibilities of going abroad.  

Course catalogue (2021/22)
International Student Mentor programme

Mentor Programme's main goal is to provide foreign students with a support that is necessary while coming to foreign country. Mentor is a person – student from SGGW – that foreign students can count on on the first days of their stay at SGGW, as well as during the whole semester. Mentor's mission is to pick up her/his Buddy from the airport, train station or bus station, help her/him with finding accomodation and all the formalities during the semester and – finally – to become great friends and spend amazing time.

How to apply?
If you're our future SGGW foreign Student, our International Relations Office will inform you about how to get a Mentor.
Questions?
Don't hesitate to contact our Mentor Programme Coordinator – mentor.sggw@esn.pl.
StartBook for International Students

In the StartBook, we gathered the most important information and addresses relevant to new students of SGGW. Start Book for the academic year 2021/22 will be available soon.



eHMS guide

Virtual Dean's office – eHMS


SGGW has a Virtual Dean's office (eHMS) that allows students to access their data 24/7. Each faculty also has on-site Dean's offices whe–re you can get information on important matters, such as class schedules and semester grading rules.
Your University mailbox and access to Microsoft 365

Microsoft 365 allows you to access your SGGW mailbox, use many Office apps and cloud services.

To activate your account and set your password read carefully and follow instruction:

 

Important note for new users of Microsoft 365 services:

To access your account, you must first reset your password. Details on password reset can be found in the above instructions.

Your login details – email address and your password are necessary to access:

University mailbox via a web browser: https://poczta.sggw.edu.pl
Ms Office 365 platform via: https://o365.sggw.edu.pl/
Eduroam WiFi – educational roaming wireless computer network available in many buildings on SGGW campus.
Electronic Student ID

To receive a Student ID, log in to the online dean's office (ehms.sggw.edu.pl) and pay a fee. If you are a full degree student your photo will be transferred automatically from the recruitment system, if you are a short-term exchange student eHMS system will ask you to upload your phone. Dean's office or International Relations Office will contact you when your ID is ready. Regularly it takes about 2 weeks.   Your Electronic Student ID also functions as a library card of the Warsaw University of Life Sciences, and an access card to computer rooms, and a Warsaw City Card (Warszawska Karta Miejska).

First-Time eHMS Login Instructions (STUDENT ID)

Please note: Student ID card must be returned to International Relations Office before leaving Warsaw. 
Academic calendar 2021/22
WI-FI

Students & Employees

SGGW provides students and employees with access to the EDUROAM (Education Roaming) wireless computer network. The network is available in most buildings on the campus.

NETWORK NAME: eduroam

LOGIN: e-mail address

students – individual student book number (numer albumu) preceded by the letter "s", e.g. s12345@sggw.edu.pl,

employees – individual employee number (numer pracownika) proceded by the letter "p", e.g. p123456@sggw.edu.pl       

PASSWORD: same as for student / employee email account.

 

Guests

SGGW guests can use the guest network.

NETWORK NAME: Guest.SGGW

PASSWORD: 8rvGSrnFtt
SGGW Student Health Centre

There is a medical clinic on the campus, which looks after students, employees of the Warsaw University of Life Sciences and all other  patients. In addition to the Basic Health Care service for adults, under the contract with the Polish National Health Fund (NFZ), it also provides specialist care services as part of private services.
Student academic organisations

Students who wish to pursue their passions and broaden their knowledge, and at the same time further the development of the University and the social environment are invited to join the work of the student academic clubs. There are 47 scientific student groups at SGGW, bringing together the most active students from various fields of study. Using the skills and knowledge gained during their studies as well as their innate ingenuity and creativity, the members organise activities that serve both their individual development and their environment. Academic groups organise projects and publications, as well as seminars and conferences, which offer the opportunity to deepen knowledge, be inspired for further activities, and meet interesting people.


Student academic organisations

 
SPORT

Our university encourages physical activity, offering its students a wide range of sports and recreational games.

 

Sport Center offers modern and well-equipped sports facilities such as:

– Sport pool 

– Recreational pool 

– Aqua aerobics 

– Swimming lessons  

The gym located in our facility is the perfect complement to the fitness offer. Individual training allows you to optimally combine classes at the gym with other forms of exercise, regardless of their nature and intensity.

 

A wide range of training, friendly service, and a homely atmosphere make the training becomes a pleasant activity.

 

In the gym is about 30 stations to perform a variety of exercises. Among the equipment available there is something for everyone – we have equipment suitable for both women and men.

 

Classes are held in an air-conditioned room under the supervision of a qualified instructor. Every time you can use the lockers, changing room, and a full bathroom.

 

We have gyms for team sports in which you can play in the following disciplines:

 

– football and handball in the hall (No.5) with dimensions of 35.5 / 16m

 

– volleyball and basketball in the hall (nr.31) with dimensions of 24.5 / 11.5m and the hall (No.35) with dimensions of 24.5 / 15.4m

 

 

We have three indoor and one outdoor tennis court. Indoor courts have a surface of plastics based on polymers – Pulastic, while outside is a concrete court.

 

Courts are heated by gas radiators system, so you can use them throughout the year.

 

SAUNA, SOLARIUM, AND MASSAGE

 

The sauna is a reliable method to improve your mood.

 

Staying in the sauna offers to all a relaxing time. We provide two Finnish saunas (dry), made from the original alder and pine trees. A thermal bath stimulates the metabolism, cleanses the skin, relaxes, and refreshes the body.

 

You can use the sauna with a swimming pool together.

 

Massage is one of the oldest medical arts. Massage works on the entire body, causing relaxation and reducing mental stress, which has recently become very common. We offer a wide range of massages.

 

 

Apart from paid classes, you can join FREE fitness classes, Mondays and Wednesdays at 8:30 pm, room 35, 10 Ciszewskiego street (Warsaw University of Life Sciences Sport Center). For more info please check: 

https://www.facebook.com/FitSGGW/

 

 

 

 

Students who are especially good at sports can join the 

University Sports Association 

(AZS)

, and follow their chosen sport in one of its sections

. Participation is free of charge but you need to fulfill the AZS criteria. For more 

info

please contact our sports club directly via email (

sggw.warszawa@azs.pl

), FB page (

https://www.facebook.com/azssggw

),

or

 Instagram account (

https://www.instagram.com/azssggw/

).