Vice-Rector for the international cooperation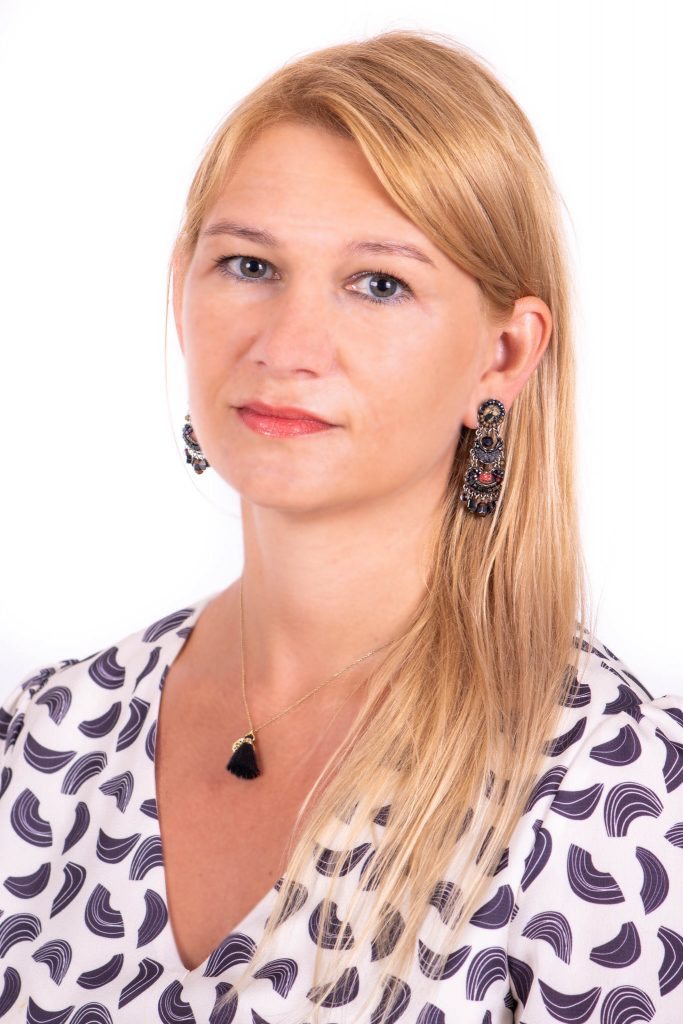 Vice-Rector for International Cooperation
Marta Mendel was born on 29 October 1979 in Warsaw.
In 2005, she graduated from the SGGW Faculty of Veterinary Medicine with the professional title of veterinary surgeon. Part of her studies (2003–2004) took place at the University of Veterinary Medicine (Tierärztliche Hochschule) in Hannover, Germany.
In 2005, she began further education during doctoral studies at the SGGW Faculty of Veterinary Medicine, graduating in 2010 with the degree of Doctor of Veterinary Sciences (based on her doctoral dissertation, The Effect of Selected Active Compounds of Common Ivy (Hedera helix) on the Motoric Activity of Rat Isolated Stomach Strips). She received her postdoctoral degree in Veterinary Medicine, in the field of Pharmacology and Toxicology, in 2018.
She started working at SGGW as an assistant lecturer in 2008 and continues as an assistant professor. During this time, she served as Dean of the Faculty of Veterinary Medicine (2019–2020), a research coordinator of the Pharmacology and Toxicology Section of the Veterinary Medicine Research Group (since 2017) and a year tutor (2014–2020). Since 2015, she has served as an expert of the Ministry of Agriculture and Rural Development appointed to evaluate plant protection products in mammalian toxicology and since 2017 as a coordinator of the GA networking group on Medicinal Plants and Natural Products in Animal Healthcare and Veterinary Medicine.
Dr. Marta Mendel's research interests are focused on pharmacological actions of medicinal plants and active substances of plant origin. Research conducted by Dr. Marta Mendel is based on the use of alternative methods and in vitro/ex vivo experimental models, which allow the assessment of xenobiotic effects on various functions of the gastrointestinal tract and liver. Her another field of research intensively developed is the evaluation of toxic effects of mycotoxins.
She gained research experience in foreign centres during short-term placements at Freie Universität Berlin, Germany, (2017) and TOXALIM Research Centre in Food Toxicology, INRA Institut National de la Recherche Agronomique in Toulouse, France, (2019).
As a manager or main contractor, she was involved in research financed from the State Committee for Scientific Research, National Science Centre, National Scientific Leadership Centre and own resources of SGGW, including the Centre for Innovation and Technology Transfer. She is the author of several dozen scientific publications with total IF > 63.
She has been a reviewer of scientific publications in numerous national and international journals, including Chemosphere, Complementary Medicine Research, Central European Journal of Biology, Cytotechnology, Journal of Pharmacy and Pharmacology, Molecules, Pharmaceutical Biology, Phytotherapy Research and Toxicological and Environmental Chemistry.
She is a supervisor of a doctoral dissertation and was a reviewer for one doctoral procedure, two postdoctoral procedures and one procedure for the title of professor in South Africa (University of Pretoria).
Dr. Marta Mendel has been a member of the Polish Society of Toxicology since 2008 (secretary since 2014), a member of the Polish Society of Veterinary Sciences (since 2019) and a member of the Society for Medicinal Plant and Natural Product Research (since 2009) and was a member of the Anti-Doping Subcommittee in the Polish Equestrian Federation Veterinary Commission (2013–2019). Since 2020, she has also been an expert of the Polish Accreditation Committee in veterinary medicine.
For her research and organisational activities, she received the SGGW Rector Awards (2011 and 2019) and the Third-Degree Award of the Polish Society of Veterinary Sciences (2019) and was honoured by the Nor-Feed Veterinary Award consortium (2016 and 2017).
Languages: English, German, Portuguese and Spanish.
Hobbies and interests: travelling, Ibero-American culture, popularisation of science among children.
Married, with two children. Has three cats, a dog and two rats.