Rector of WULS-SGGW with Christmas wishes for the Academic Community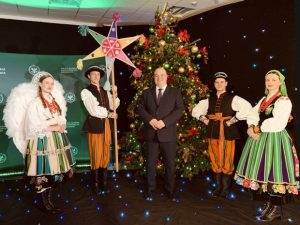 On the occasion of the upcoming Christmas, Rector prof. Michał Zasada sent his wishes to the University Community of the Warsaw University of Life Sciences.
"I wish you to spend this year's Christmas in an atmosphere of love and mutual understanding. Let these Christmas Eve meetings, although in a smaller group, bring you a lot of smile and optimism and be a good forecast for the next days.
Let them provide you with the strength to take on new challenges and perseverance in their implementation. They will fill us with faith in a better future, because only positive thoughts "give us wings" and allow us to pursue our dreams. And I sincerely wish you all these dreams come true in the coming year!
Ladies and Gentlemen, healthy and peaceful Christmas and all the best in the new year! "