WULS-SGGW delegation at the Sokoine University of Agriculture (SUA) in Morogoro
As part of the visit of the WULS-SGGW delegation to Tanzania, a meeting with representatives of the authorities of the Sokoine University of Agriculture (SUA) in Morogoro was held.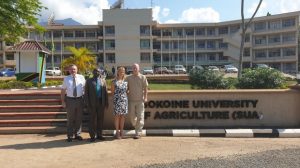 During the meeting attended by prof. Maulid Mwatanala – Vice-Chancellor for Acadmics, Research and Consultancy, prof. Chrisopher Kasanga and prof. Elliot Phiri and dr hab. Marta Mendel, prof. dr hab. Macin Bańbura, the possibilities of scientific cooperation and exchange of academic staff and students between both universities were discussed. It is worth emphasizing that the organizational structure of SUA and SGGW are very similar in relation to the educational offer.
Moreover, during the visit to Sakoine University of Agriculture, representatives of the Warsaw University of Life Sciences participated in the opening ceremony of laboratories that were modernized and equipped under the Polish Aid project, financed by the Ministry of Foreign Affairs of the Republic of Poland.
Launching the laboratories was preceded by a series of trainings prepared and conducted by employees of the Institute of Veterinary Medicine: Dr. Justyna Bartosik, Dr. Maciej Klockiewicz and Dr. Marek Kulka.