The power of music and the power of the community – PROMNI on stage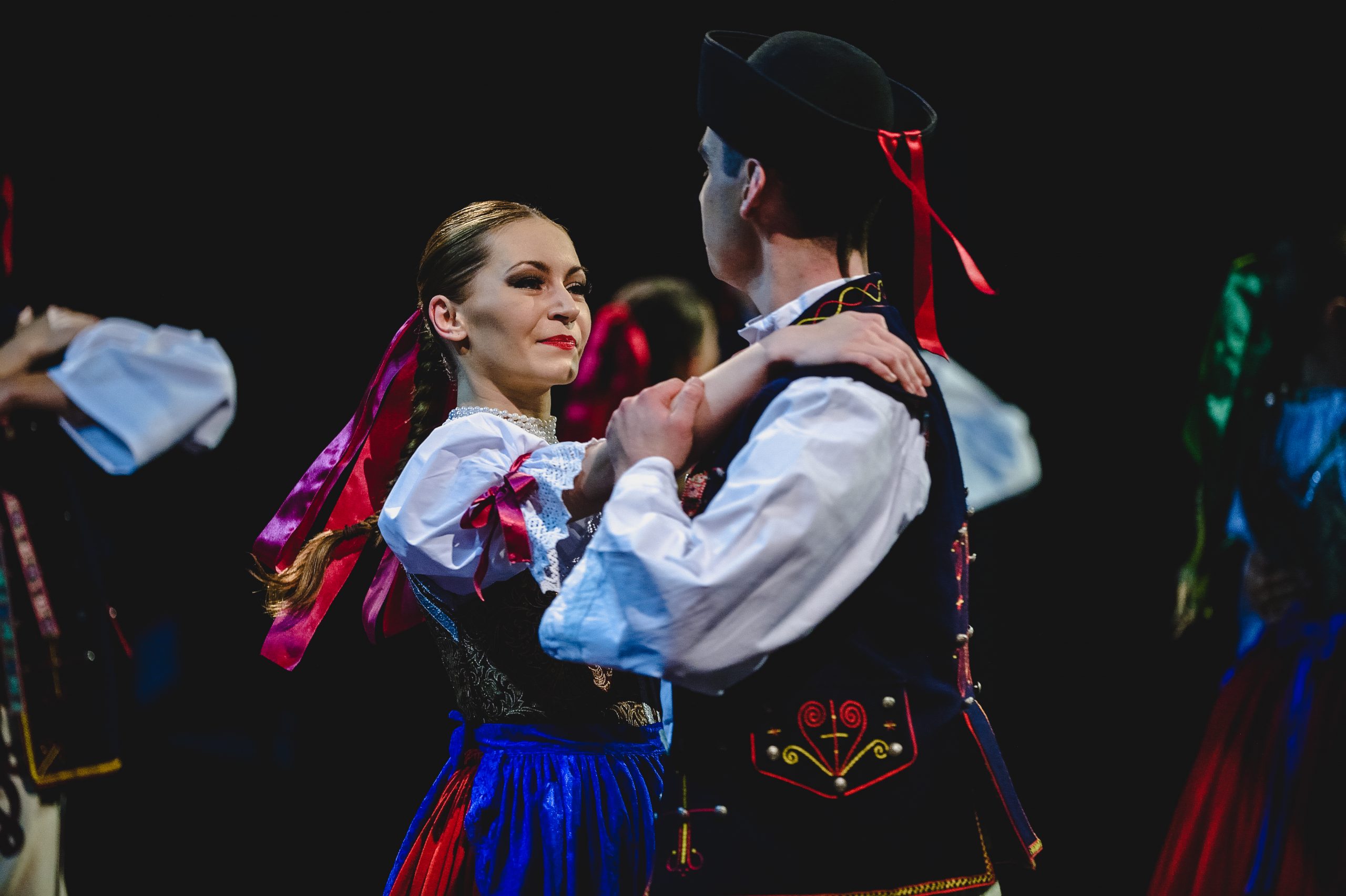 The PROMNI Gala Concert proves that the group's passion creates and strengthens the identity of the SGGW community. The artists of the Folk Art Group of our Alma Mater have prepared a great cultural feast for the audience.
COVID-19 has changed the world. Our university pillars have also been redefined, including, unfortunately, the annual PROMNI Gala Concert. So far, every year it has been an opportunity to meet and integrate for our academic community, sadly the restrictions made it impossible to continue during the pandemic. The audience missed, and PROMNI, in spite of the obstacles, did their training and conducted rehearsals. At first, in a remote mode, and then in the rehearsal room. Finally, we could see the results of their work on 15 May 2022 at the "Alternatywy" Community Center.
At 5:00 p.m., prof. dr hab. Michał Zasada, rector of SGGW appeared on a stage in front of a full audience.
"Ladies and gentlemen!
Any performance given by PROMNI is a unique event in the calendar of our academic community. The group's concerts are wonderful, full of joy, colorful and exciting shows. PROMNI is the essence of Polish identity, a respect for the centuries-old traditions and culture of our country.
The Polish folk dances such as Mazurek, Krakowiak, Kujawiak are still alive and present in our culture thanks to such folk groups. The words sung years ago in the Polish countryside may now be heard in new places, whereas the atmosphere and variety of the setting make the audience full of joy and excitement.
Dear Artists! You are our great pride! " – said the Rector of SGGW.
When the official part ended, the long-awaited show began; first artists appeared on the stage and the audience greeted them with thunderous applause.
PROMNI – tradition in a modern form
This year's PROMNI Gala Concert was an important event for our academic community. Thanks to it, we were able to strengthen the academic identity, the origin of which is derived from folk culture. Our artists are constantly developing and improving their professional technique. Thanks to curiosity and browsing through various materials, as well as the excellent cooperation of the music director, Mr. Jarema Jarosiński, and singing instructor Ms. Magdalena Sobczak-Kotnarowska, PROMNI have collected a dozen or so melodies and tunes that have been subjected to vocal and instrumental arrangements and then presented during the concerts from the beginning of the year. The musical repertoire newly arranged by Jarema Jarosiński is a mix of traditional and contemporary sounds, it is ravishing melodic and harmonic solutions in folk art.
These arrangements meet the expectations of a modern listener and allow new generations of PROMNI not only to recreate beautiful, traditional folk dances and songs, but to discover them again. Young artists become co-creators of the new repertoire, which is received with enthusiasm and will be demonstrated  on the next concerts.
 I adapt our repertoire to the contemporary world, keeping the most valuable part,   says Jarema Jarosiński.
The rich heritage of PROMNI is full of contemporary freshness and innovation, while maintaining the group's traditions. A listener wants more, with a feeling of insatiable desire.
Folk Dance Ensemble 2022
In order to get familiar with the colorful world of LZA PROMNI, we asked a few questions to the Manager, Mr. Radosław Puszyło.
What is the secret of LZA PROMNI success?
Behind each success story, there are people full of passion and commitment, aware of their own possibilities and support they receive from our university. We have been operating in harmony with SGGW for nearly 50 years and we can look to the future with confidence.
Currently, PROMNI is not an ensemble, but an institution, hence all members, both former and present, keep repeating: it is a big family.
The PROMNI members devote themselves to their passion in private time, often at the expense of their sacrifices and putting off other tasks. However, they can be a part of an amazing project. It's a way of life.
How big is the ensemble?
The PROMNI team got bigger a few years ago and now consists of 3 groups. The core is a folk group of about 90 people, and our team also includes the SGGW Chamber Choir under the direction of Dr. Paweł Choina, and SQER Dance – a contemporary dance group led by Andrzej Wołosz. In total, we engage around 150–170 students a year in various artistic activities.
The audience can see the performance, but after all, a lot of your work takes place during rehearsals and backstage – what are the pillars of PROMNI?
It is impossible not to mention the staff consisting of outstanding people. There are four divisions; music, choreography, tailoring and administration. Our choreographers,  Agnieszka Nagnajewicz and Andrzej Wołosz are responsible for regular rehearsals, arranging programs, creating choreographies, directing concerts and motivating young people to work hard.
The music division under the direction of Jarema Jarosiński deals with musical arrangements for concerts and celebrations, new programs and musical support for choreographers.
Magdalena Sobczak-Kotnarowska conducts singing and voice emission classes for students.
She is also an extraordinary artist with a great stage experience and a treasury of knowledge in the field of folk singing. The musicians; Dariusz Pecyna and Michał Zuń have been contributing to the musical strength of our group for many years. Aleksander Romański, the former music director of PROMNI continues to support us with his experience and skills, and cares about the authenticity of the message. Our latest achievement was the creation of a professional tailoring studio managed by Janusz Kaspryk. Thanks to co-financing from our university, we were able to recruit two dressmakers; Ms. Małgorzata Staniszewska and ms. Lidia Kacperska, and purchase the appropriate equipment. Currently, we can renovate our costumes ourselves, and even create them from scratch. The PROMNI team's costumes are one of the most magnificent and best-preserved collections of folk costumes in the country. It includes costumes from 18 Polish regions, and its potential and functioning is comparable to that of professional ensembles. Together with my wife, Paulina, we work in the PROMNI's office to coordinate the work of all divisions and to take care of everything. We also deal with the organization of university events, concerts, festivals and foreign trips. And after hours … We have been playing in the PROMNI group for many years.
Who can join you?
PROMNI is a student team, so we invite students of SGGW and other Warsaw universities who are keen on music, dancing and singing, love to move and are not afraid to show on stage. As a reward, they will have an opportunity to perform on local and international stages. It is a lifetime adventure, and  the group becomes a second home, where new friendships and affairs may develop, often ending in marriage.
And parting can be hard…
What are your challenges?
Some of our plans have been thwarted by the pandemic, so now we are focusing on getting back on track. First of all, we would like to go out to the public, give concerts and appear  wherever something valuable is happening at the SGGW, Polish folklore area, or on stages around the world. We have various concerts ahead of us; during the SGGW Days,  in Warsaw and around,  during harvest festivals, and in Macedonia and Spain. Our most important goal for this and next year is to prepare and conduct the Jubilee Concert on the occasion of the 50th anniversary of PROMNI along with a new premiere program. I hope soon I will be able to invite you to the anniversary celebrations.
What are your greatest achievements?
The team has won many awards in Poland and abroad i.e., France, the Czech Republic, Korea and many others. Each generation of PROMNI has won some awards. However, each performance is a success for us, a burst of energy and adrenaline, and a sense of integration. I think the presence of PROMNI at every important university event of our Alma Mater is also a great success: at galas, such as the one on the occasion of the 200th anniversary of the Warsaw University of Life Sciences at the Grand Theater, National Opera in Warsaw, and during the local events. This means that we are recognized and constitute an important part of academic life. The most recent success was the first performance of this year's debutants, our youngest group – Promyczki – during a concert at the Ursynów Community Center. In March we went to Mexico and I think that it was a success to spread Polish culture around there. We saw the curiosity of Mexicans and the joy our performances have brought.
The Gala concert at the "Alternatywy" Community Center, Ursynów
The audience of the Gala Concert had the pleasure to participate in the event, as follows:
THE CONCERT PROGRAM
"Tańce górali spiskich"
choreography: Maria Wnęk 
arranged by: Andrzeja Wołosz
music: Aleksander Romański
2.  "Tańce opoczyńskie"
choreography: Sławomir Mazurkiewicz
music: Tomasz Skoneczny,
arranged by: Aleksander Romański
3. "Postatnica"
arranged by: Jarema Jarosiński
4.  "Mój wianeczku"
arranged by: Jarema Jarosiński 
5.  "Za co ze mnie"
arranged by: Jarema Jarosiński
6. "Para koni"
arranged by: Jarema Jarosiński 
7.  "Tańce lubelskie"
choreography: Zofia Marcinek
music: Tomasz Skoneczny, 
arranged by: Aleksander Romański 
8. "Tańce rzeszowskie"
choreography: Alicja Haszczak
music: Tomasz Skoneczny, 
arranged by: Aleksander Romański and Jarema Jarosiński 
9. "Tańce podlaskie"
choreography Emma Cieślińska
 arranged by: Agnieszka Nagnajewicz
music: Aleksander Romański, 
arranged by: Aleksander Romański and Jarema Jarosiński
10.  "Oj wesna krasna"
a folk song
11.  "Rano, rano"
a folk song
12.  "W moim ogródeczku"
a folk song
13.   "Kukaweńka kuka"
arranged by: Jarema Jarosiński 
14. "Tańce krakowiaków wschodnich"
choreography: Janina Kalicińska, 
arranged by: Agnieszka Nagnajewicz and Andrzej Wołosz
 music: Tomasz Skoneczny, 
arranged by: Aleksander Romański
Artists
Klaudia Adamowicz, Katarzyna Antosik, Katarzyna Baczyńska, Piotr Bala, Aleksandra Barcińska, Dominika Bednarczyk, Szymon Bialik, Lidia Bilińska, Alicja Chmielewska, Julia Chruściak, Aleksandra Dudek, Jan Dziewulski, Wiktor Dzik, Marcin Gabruś, Katarzyna Gębalska, Aleksandra Gicewicz, Joanna Horoszewicz, Zuzanna Jadczyk, Agata Jeleń, Justyna Wawerek, Arkadiusz Kałucki, Weronika Kijo, Kacper Konopka, Wioletta Kosmala, Katarzyna Kowalik, Aleksandra Kowalska, Agnieszka Kremblewska, Monika Królik, Małgorzata Lewczuk, Piotr Łajewski, Mateusz Małacha, Marcin Małż, Mateusz Marcińczyk, Aleksandra Marszalec, Anna Michalak, Monika Kołodko, Natalia Ochnik, Paweł Niesiobędzki, Adam Odolecki, Jarosław Podgórski, Natalia Przyborek, Bartłomiej Rózio, Martyna Staniec, Kamil Staroński, Filip Stawicki, Dawid Szczepaniak, Agata Szum, Katarzyna Szymańska, Julia Średnicka, Jakub Trzyszka, Weronika Wargocka, Justyna Wawerek, Łukasz Wilk, Maciej Wiśniewski, Paulina Witaszczyk, Agata Witczak, Michalina Wojciechowska, Kinga Wróbel, Michał Zawadzki, Bartosz Żółkiewski
Band
Paulina Puszyło, Radosław Soroka, Radosław Puszyło, Michał Zuń, Magdalena Sobczak-Kotnarowska, Jarema Jarosiński, Dariusz Pecyna, Karolina Lize
Choreography, written, directed by:
Agnieszka Nagnajewicz and Andrzej Wołosz
Music:
Jarema Jarosiński
Vocal arranging:
Magdalena Sobczak-Kotnarowska
Accompaniment:
Aleksander Romański, Jarema Jarosiński, Radosław Puszyło
Costumes:
Janusz Kaspryk, Lidia Kacperska, Małgorzata Staniszewska
Administration:
Paulina Puszyło
Manager
Radosław Puszyło
PROMNI
Folk Dance Ensemble
Szkoła Główna Gospodarstwa Wiejskiego w Warszawie
Nowoursynowska 166
02-787 Warszawa
tel. 22 593 14 20 / 697 901 758
promni@sggw.edu.pl
www.promni.pl